Institute for Lung Research and Pulmonary Oncology
Work at the Institute
The Karl Landsteiner Institute for Lung Research and Pulmonary Oncology is dedicated to the following scientific areas:
Clinical trials to evaluate the safety and efficacy of oncologic therapies in patients with lung cancer.
Clinical studies on the feasibility, safety and efficacy of pharmacological and non-pharmacological treatment options in patients with COPD
Clinical studies on the feasibility, safety, and efficacy of pharmacologic treatment options in patients with interstitial lung disease
Landsteiner Lung Cancer Study (LALUCA): This is a prospective lung cancer registry, with a primary focus on diagnostic processes, therapeutic decisions, and prognosis in clinical practice.
Conducting "real-life" studies in the field of COPD, interstitial lung disease and lung cancer with the aim of improving the characterization of affected patients.
Participation in national and international registry studies (e.g.: alpha-1-antitrypsin deficiency) with the aim of achieving a better understanding of the course of pneumological diseases and their success in treatment.
Cooperation with the Institute for Ethics and Law in Medicine for the purpose of researching the effects of structured therapy targeting on medical-ethical decisions.
The institute conducts clinical trials in Phase 1, Phase 2, Phase 3 and Phase 4 post-market access. In addition, a number of investigator-initiated trials and academic research projects with national and international scientific collaborators are being carried out.
Our scientific cooperation partners are:
Medical University, Vienna
Medical University, Graz
Austrian Institute of Technology
Institute for Ethics and Law in Medicine
Faculty of Psychology, University of Vienna
Thorax Clinic, Heidelberg University Hospital
University of Pittsburgh School of Medicine
University Medical Center Groningen
Royal Brompton Hospital
Charles University, Prague
DEEP VR
Photos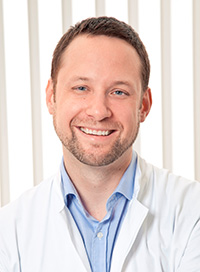 Downloads